Presenters
---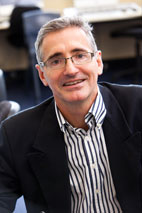 Gerard Alford
B.Econ. Dip. Ed. M.Ed. M.A.C.E
Gerard is a well-established author of education resources and is the Director of one of the largest education resource companies in Australia: itc publications, established in 2002.
Gerard has over 20 years' experience as a full-time Secondary School teacher in a range of independent schools in three Australian states and the UK, where he held a number of different senior positions including Head of Faculty, Director of Studies and Dean of Staff. He has a further 17+ years' experience as a respected education consultant, author and education resource developer.
Gerard's drive in developing teacher resources and a consulting practice has been to inspire and support busy teachers in creating engaging pedagogy and time-saving strategies to encourage successful student outcomes.
Gerard is the editor and co-author of the innovative teacher's companion: the first teacher diary in Australia to include teaching strategies 'at your fingertips' and which is widely used in schools throughout Australia, New Zealand and the Pacific Islands.
He is also the co-author of the best-selling innovative students' companion and the popular beginning teachers' companion. In addition, Gerard has been instrumental in developing itcthinkdrive which is a valuable digital resource that includes many time-saving strategies, templates, resources and ideas for busy teachers. With constant updates, thinkdrive remains fresh and alive and is fast becoming a vital resource for teachers and schools alike.
Gerard is a regular presenter at schools and also education conferences, including the Association of Supervision and Curriculum Development (USA), the International Association for the Study of Co-operation in Education (2012), the 11th World Convention of the International Confederation of Principals (2013) and the 4th International Conference on Teaching, Education & Learning (London, 2018).
With time-saving methodologies as the keystone, Gerard is fundamentally passionate in promoting high-order thinking and cooperative learning through engaging and effective evidence-based teaching methods.
He is married with twin children and lives in Brisbane, Queensland.